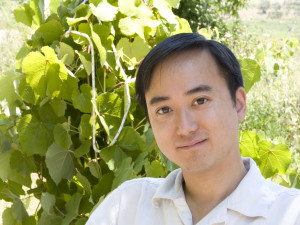 Randall Eng has devoted his career to mining the territory between opera, music-theatre, and jazz. His first opera Florida (libretto by Donna DiNovelli) was presented at Lyric Opera Cleveland and was met with wide acclaim; reviews praised the score as "brilliant", "captivating", "luminous", "thrilling", "beguiling", "haunting", "delectable", "a significant, snazzy work" (Donald Rosenberg, Cleveland Plain Dealer). Florida was previously presented at New York City Opera's VOX festival and the Public Theater's New Work Now! festival.
Randall's second opera Henry's Wife (libretto by Alexis Bernier) has received workshops at the Virginia Arts Festival, Manhattan School of Music's "Page to Stage" series, American Opera Projects, and the Center for Contemporary Opera. Excerpts from Henry's Wife have also been performed at the Shaw Festival, Tapestry New Opera, Galapagos Arts Space, and Metropolis Opera.
Randall's score for the play The Dangers of Electric Lighting premiered in October 2011 at Luna Stage, and was hailed by the New York Times for its "effective pulsating quality". His other operatic and theatrical works include Cocktails (Circle East Theater), Usher, Falling (Opera Vindaloo Festival), and the video opera The Woman in the Green Coat (Edinburgh Fringe Festival). Non-theatrical works include commissions for Albany Symphony Orchestra's Dogs of Desire, Mirror Visions Ensemble, Composer's Voice, and baritone Marcus DeLoach.
His is working on several new projects, including another opera with Donna DiNovelli entitled Before the Night Sky, based on the story of the Gemini twins and their sisters Helen of Troy and Clytemnaestra.
Randall has been awarded grants, prizes, and residencies from the American Music Center, the American Composers Forum, the Civitella Ranieri Foundation, the Hermitage Artist Retreat, the Montalvo Arts Center, the Ucross Foundation, the Millay Colony for the Arts, the Atlantic Center for the Arts, the Virginia Center for the Creative Arts, the Bang on a Can Summer Institute, the John Duffy Composers Institute at the Virginia Arts Festival, American Opera Projects, Boston Metro Opera, Raw Impressions Music Theatre, the Eugene O'Neill Music Theatre Conference, Tapestry New Opera Works, and New Dramatists.
He frequently works as a musical dramaturge, musical supervisor, musical director, and pianist, specializing in new operatic, experimental, or jazz-oriented scores. He was an advisor to musical adapter Diedre Murray on the recent Broadway revival of Porgy and Bess, and has worked on many of Ms. Murray's other music-theatre pieces, as well as works by composers Leroy Jenkins, Kirsten Childs, Rachel Portman, Will Todd, and others.
He is a graduate of Harvard University, Cambridge University, and New York University's Graduate Musical Theatre Writing Program, where he is now a full-time faculty member and Resident Composer. His teachers include Anthony Davis, Mark Adamo, and Wadada Leo Smith. A Staten Island native and Jeopardy! champion, he lives and works in New York City.