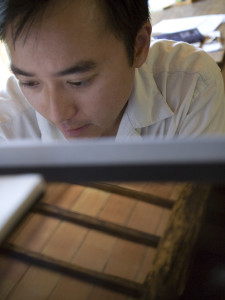 Randall Eng is a composer of opera, music-theatre, and works in between. He is Resident Composer and full-time faculty member at New York University's Graduate Musical Theatre Writing Program. Listen to his song cycle Florida in the sidebar.
UPCOMING EVENTS
DC – UrbanArias presents the world premiere of Randall Eng's opera Florida on April 7th, 8th, 13th, and 14th in Washington DC. Written with the librettist Donna Di Novelli, the dynamic new opera tells the story of Florida Fandango, a teenage girl wrongly accused of murdering her mother. By looking at one girl, in one summer, Florida brings to light how teenage girls become suspect due to their sexuality. Set in an American suburb, with a score of powerful rhythms and vocal virtuosity and a libretto of nimble and inventive language, Florida offers a vision of new opera that is simultaneously vibrant, powerful, and stylish. This premiere production is directed by Kevin Newbury and conducted by Bob Wood. More information and ticket sales here.
NY
– The MasterVoices Chorus presents the premiere of Randall Eng's new piece REMAIN in concert at Cooper Union in New York City on 
March 7th
. A setting of a "Know Your Rights" pamphlet distributed to recent immigrants, REMAIN features soprano Mikaela Bennett, baritone Justin Austin, a seven-piece instrumental ensemble, and Ted Sperling conducting the 100+ person MasterVoices Chorus.
More information and ticket sales here.